Autumn: Cool days warmed by the sun, chilly nights with a hint of winter, piles of leaves to jump and play in and pumpkin pie in the oven. It just doesn't get any better than that, and on this sunny, cool day in Tennessee, Mother Nature is strutting her stuff.
I'm getting a head start on Thanksgiving with this centerpiece, and KoolTak™ products made it happen. I wanted to experiment with some of the Artist Tapes and this was just the ticket. Who could guess that these studded candles' trim is red- you read it right- red 1/2″ Artist Tape from KoolTak™. I have used a lot of tape from other manufacturers, but this is the only one I've found that holds it's stickiness after repeated handling, and that is on wax, to which it is very hard to adhere things anyway. The wire is held to the back of the metal leaves with 1/4″ black Artist Tape and many of the pieces are joined with foam squares in black, white and clear. I just love KoolTak™.products.
Supplies – These versatile KoolTak™ products should be in every artist's arsenal of adhesives: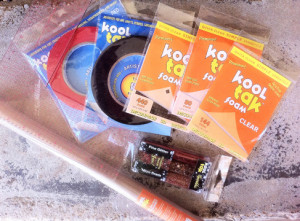 KoolTak™ Layer Plus Tool
KoolTak™ Artist Tape, Red 1/2"
KoolTak™ Artist Tape, Black 1/4″
KoolTak™ 3D Foam Pads Black, 1/4″ x 1/4″ x 1/16"
KoolTak™ 3D Foam Pads, White, 1/2″ 1/2″ x 1/4″
KoolTak™ 3D Foam Pads, Clear 1/4″ x 1/4″ x 1/32″
KoolTak™ Sparkles Bonus Pack – Red
KoolTak™ Non-Stick Crafting Sheet
Other Supplies:
Copper metal sheet, about 6″ x 12″
Aluminum sheet (mine is a recycled printing plates. You could also use recycled foil pans.)
Gold Leaf Pen
Pillar Candles, three, ivory, assorted sizes
Triangle Coatings Sophisticated Finishes, Copper Metallic Surfacer
Golden Acrylics, Iridescent Gold
Alcohol Inks, Cranberry, Meadow, Caramel and Rust
Pearl Pens, Viva Décor, Gold, Copper and Bronze
Assorted ribbons (these are all leftovers from previous projects)
Floral Wire Paddle, Green
Beads
Gold wire
Sizzix Big Shot
Sizzix diecuts, Tattered Leaves, Tattered Florals and Holly (all Tim Holtz products)
Tools: Craft knife, sponges,  small wooden skewer, wax paper, tape measure, small cup for microbeads, Cropadile or 1/8″ hole punch
Directions
Wrap the tape measure around each candle to determine the length of your red Artist Tape.
Place wax paper on your work surface the length of your longest measurement. Measure and add the two additional pieces of tape.
Using a sponge, dab on the copper paint. Allow the paint to dry and add a second color if needed. I selected the red tape because if I missed a spot, the warm color would blend well. Once the paint is completely dry, use the Layer Plus tool and a fine point pen to accurately mark the placement of the dimensional paint. Add the Pearl Pen dots, one color for each stripe and allow it to dry. Wrap each candle with the tape and trim the top and bottom ends to sit flush on the candle.
Die cut the leaves and flowers from the metal. (I had already cut the copper sheet when I remembered the old printing plates I had. I couldn't tell any difference once they were inked, except that there was printing on some of the aluminum surfaces that I couldn't remove. A coating of Golden Acrylic Iridescent Gold took care of that!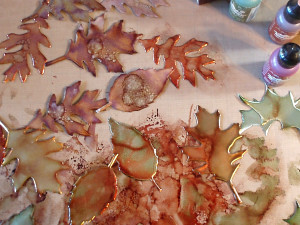 Place your KoolTak™ Non-Stick Crafting Sheet on your work surface.
Ink the leaves and flowers with alcohol inks, dabbing the ink on and switching colors as needed.  Set the pieces aside to dry, then add floral wire to the back of each leaf, securing it with 1/4″ black KoolTak™ Artist Tape. Wrap the small stem on each leaf around the wire at the leaf base. Using three stems, twist the bottom of the wire to secure it.
Assemble the Tattered Florals elements with the KoolTak™ black foam dots, cut the hole with a Cropadile or 1/8″ holepunch and secure the flowers with a large gold brad. The gold was a little bright for me, so I spritzed some rubbing alcohol on the sponge dauber I had used to paint the flowers and hit the brads a couple of times. That's all it took to make me happy.
Using a 5″ piece of floral wire, string on a bead to within 1/4″ of the wire's end.
Bend the wire over the bead and add a KoolTak™ clear foam dot. Once the wire is secure, dip the ends in KoolTak™ Sparkles microbeads to cover the foam and wire.
Cut gold wire approximately 6″ long and wrap it around a skewer to create curls. Use these in the ring when you need a little pop of sparkle.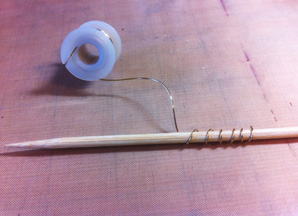 Wrap several rounds of floral wire to make a 12″ circle. (You could also use a small artificial grapevine wreath for this step.)
Cut your scrap ribbon into 8″ lengths and tie them to the wire. And the leaves, wrapping the stems around the wire circle. Place the flowers and adhere them to the larger ribbons with the 1/2″ foam squares.
Add the beads and wire curls, slip this over your studded candles and you have a centerpiece that will compete with your turkey this Thanksgiving.
Here's wishing you a wonderful beginning to our holiday season with plenty of time for family and friends, wonderful holiday shopping sprees and cozy nights when you can warm up over hot cocoa. That sounds pretty good. I'm off to the kitchen! - Candice