It's the spooky time of year, and kids can hardly wait to Trick-or-Treat, gathering artery-hardening concoctions door-to-door.
You can always heap you candy up in a bowl, but it's so much fun to create a special treat box, just for use that one night of the year. Using Kool Tak™ products guarantees that your box will hold up for years to come.
It actually took me longer to select my decorative papers than it did to create this spooktacular container.
Here's how I did it:
Supplies
Kool Tak™ Products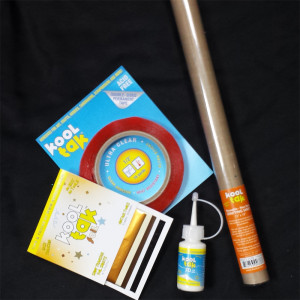 Kool Tak™ Ultra Clear Adhesive, ½"
Kool Tak™ Reusable Non-Stick Crafting Sheet
Kool Tak™ 3D Dimensional Adhesive
Kool Tak™ Shiny Foils, Vintage Tones, Copper
Shoe box with attached lid (Sketchers)
Black Craft Paint (DecoArt)
Assorted Halloween card stock, four coordinating 12" x 12" sheets (Graphic 45 and other brands from my stash)
Black, 4" x 6" scrap, and orange, two 12" x 12" sheets, solid cardstock
Ribbon, ¾" x box lid outer measurement (Bo Bunny)
Crande Calibur Die Cutting Machine (Spellbinders)
Circular Nesting Dies (Spellbinders)
Waxed paper
Paint brush
Alphabet stamps, approximately 1 ¼" tall, B and O
Instructions
Paint entire box, inside and out with black craft paint and allow it to dry. Add a second coat if necessary.
Measure box lid and cut a piece of orange card stock to fit the lid leaving a ¼ to ½' border. Layer a piece of Halloween print card stock on the orange card stock, cutting it to ¼" smaller on two sides than the orange. Adhere the layers together with ½" Kool Tak™ Ultra Clear Adhesive.
Repeat for the inside lid liner and add a cut-out Halloween image (Graphic 45).
Cut the largest oval from orange card stock with the die and the second largest from black card stock. Adhere the orange oval to the outer lid center with ½" Kool Tak™ Ultra Clear Adhesive.
Tip: For intricate dies with tiny pieces, layer a small sheet of waxed paper between the die and the card stock. It will make your life much easier.
Brush a thin coat of Kool Tak™ 3D Dimensional Adhesive on the stamps and stamp the image on the black oval.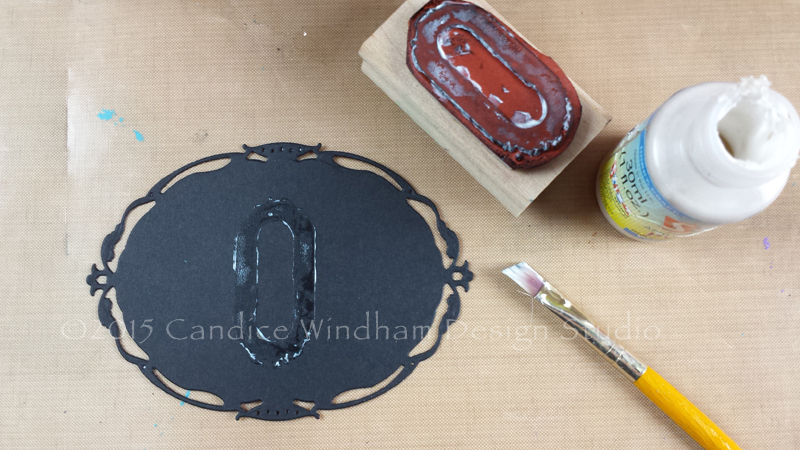 Allow the adhesive to dry and then apply Kool Tak™ Shiny Copper Foil to the letters. Press repeatedly if the foil doesn't adhere immediately. Add additional adhesive if necessary, allow it to dry and then repeat the foiling process. Be sure to clean your stamps and brush with soap and water immediately.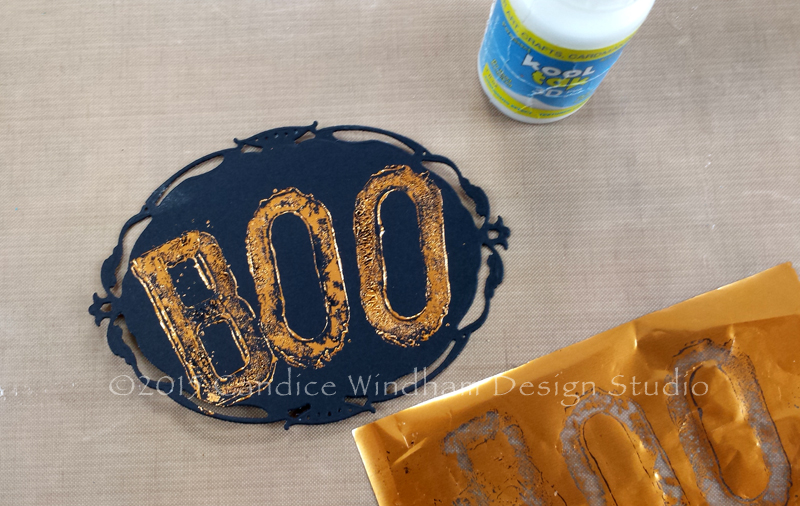 Apply strips of card stock around the outside box bottom, attaching with ½" Kool Tak™ Ultra Clear Adhesive, beginning in the box front center and wrapping the strips to the back. Cut the second layer of paper about 1" shorter than the base paper and repeat.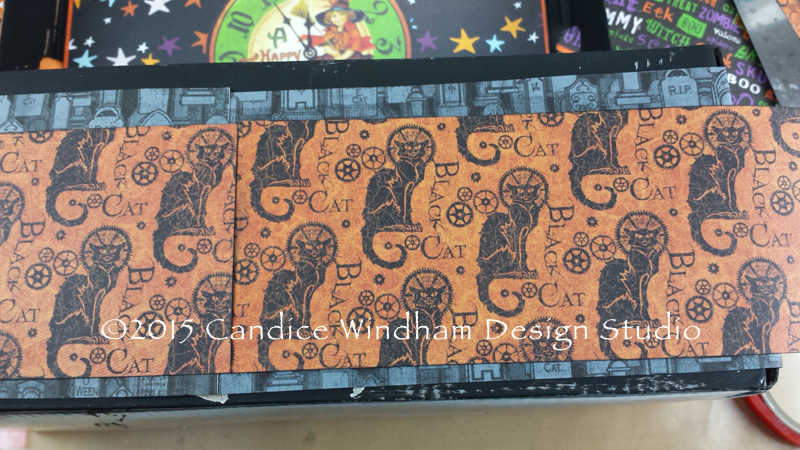 Place ½" Kool Tak™ Ultra Clear Adhesive centered around the box lid edge. Apply ribbon to the edge.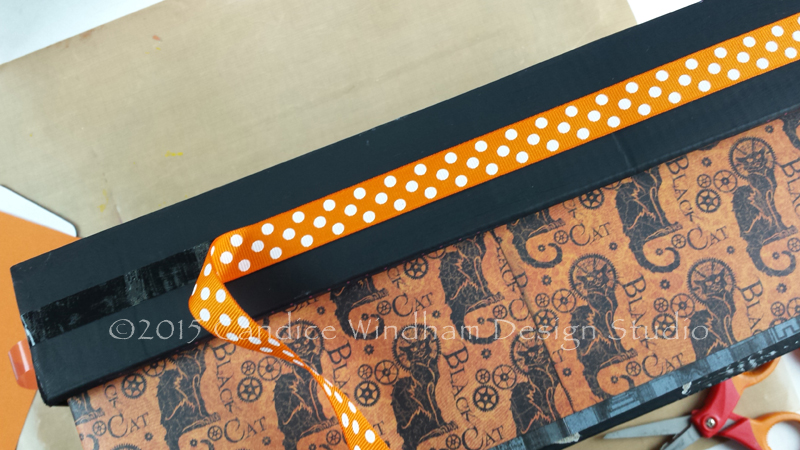 Cut out the black cat tag (Graphic 45) and adhere it over the card stock seam on the front with ½" Kool Tak™  Ultra Clear Adhesive.
Fill it with candy and enjoy, but if you put this on display too soon before Halloween, you might have to refill it several times since it will attract so much attention!