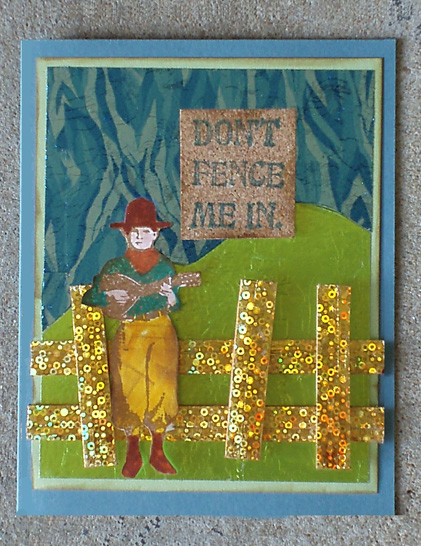 A lot of people get the urge to sit back and take it easy during the summer months. For those who have worked a long time, thoughts often turn to retirement and the fun they could have just relaxing, taking it easy and doing some things they've never had time for in the past. Fishing, writing a book, reading and traveling make the top of a lot of to-do lists. This retirement card is perfect for the retiree who wants to travel without the constraints of having to be back at work on Monday morning.
I love the ease of making this, thanks to Kool Tak products.
Here's how I did it:
Supplies
Card stock, green, 4″ x 5″ (1)
Card stock, blue, 8 1/2″ x 5 1/2″, folded to 4 1/4″ x 5 1/2″ (1)
Card stock, white, 2″ x 4″  (1)
Recycled Craft Sticks  (4)
Artistic Outpost Singing Cowboy Stamps
Colored Markers,
Stazon Ink, Azure
Vintage Photo Distress Ink
Cork scrap, 2″ x 2″
Permanent fine-line marker
Tools: scissors, ruler/paper trimmer, craft knife
Instructions
Draw a curve on the Kool Tak™ Ultra Clear Sheet to simulate a hill. Trim into two pieces.
Place the lower part of the Ultra Clear Sheet on the green card stock. Cover with the Lime Green foil. Repeat at the top with the remaining piece, cover with the Blue Algae pattern foil.  TIP: The foil must be applied with the colored side up. Rub the foil with your finger or the tip of the craft stick to make it transfer correctly.
Sponge the edges of the green card with the Vintage Photo ink and set it aside.
Trim the craft sticks: Trim two sticks 4″ long and three sticks 2″ long. Apply the Kool Tak™ Ultra Clear tape to one side of  the sticks, remove the red liner and cover with the Gold Beads pattern foil.  Apply tape to the other side of the sticks to adhere the foiled sticks to the front of the card, as shown.
Stamp the cowboy image onto the white card stock with the Vintage Photo Distress Ink.  Color the image with markers and trim the edges closely. Adhere the cowboy image to the fence using Kool Tak™ 3D Foam Pads.
Stamp "Don't Fence Me In" onto cork using Azure Stazon ink. Trim the saying closely and then sponge the Vintage Photo Distress Ink along the edges. Attach the saying to the front of the card with Kool Tak™ 3D Foam Pads.
Mount the card front to a folded blue card stock.
Related posts: