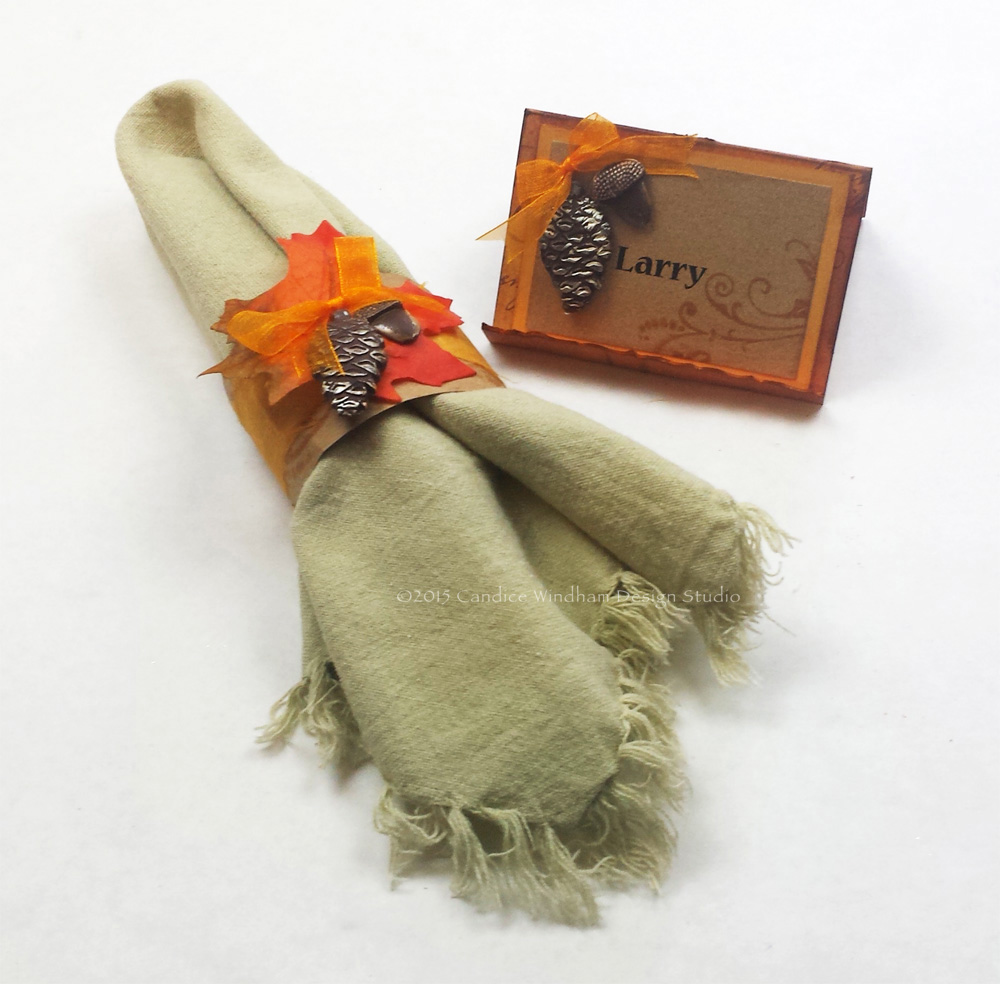 Autumn is here in all its glory. It's time for football games, burning leaves, harvest celebrations and Thanksgiving. Our Canadian neighbors celebrated Thanksgiving this past week, and it will soon be upon us here in America.
Now is the time to get your table decor ready, and Kool Tak™ is here to make it quick, easy and durable, whether in heat or cold, so that you can use it from year to year.
Here's how I did it:
Supplies
Kool Tak™ Products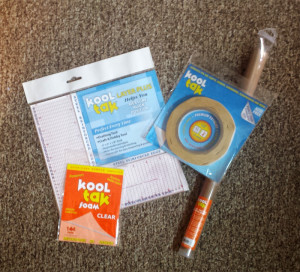 Kool Tak™ Reusable-Non Stick Craft Sheet
Kool Tak™ Premium Extreme Adhesive, 1/2″ width
Kool Tak™ Foam Adhesive Foam Pads, Clear, 1/4″ x 1/4″ x 1/32″
Kool Tak™ Layer Plus Tool
Little B Chipboard Pack, one sheet for every two place card holders (Little B llc.com)
Patterned paper 1/2 sheet per place card holder(Paper Studio)
Kraft Paper, 8 1/2″ x 11″,  one sheet per eight name tags and 1 sheet per four napkin rings
Mulberry paper, gold, one sheet per five napkin rings
Gold card stock, one sheet per eight name tags
Makin's Air Dry Clay, Brown, one pack
Makin's Push Molds, Christmas Nature
Inka Gold, Platinum, Orange (Viva Décor)
Organdy Ribbon, 3/8″, orange, 12″ per each place card holder and napkin ring
Decorative Edge Scissors
Bone folder or scoring tool
Dye Ink, Spiced Marmalade and Tea Dye Distress Inks ( Tim Holtz, Ranger, Inc.)
Computer and Printer
Swirl Stamp
Water and small brush or water brush
Silk leaf
Instructions
Protect your work space with the Kool Tak Reusable-Non Stick Craft Mat.
Make two pine cones and two acorns for each place card and napkin holder using Makin's Air Dry Clay and Push Molds. Allow the pieces to dry overnight. Highlight each piece with Platinum and Orange Inka Gold.
Place Card Holder
Cover the Little B card stock with patterned paper front and back. Note: This is very sturdy card stock, so it is not necessary to use patterned card stock to cover it. Trim to 4″ x 12″ and cut to make two pieces, 4″ x 6″. Use the Kool Tak™ Layer Plus Tool  and a bone folder or scoring tool to score each piece at 1″ from one end and 2 1/2″ from the other end. Fold the 2 1/2″ pieces one way and the 1″ piece the opposite. Trim the 1″ edge with decorative scissors. Ink all the edges with Spiced Marmalade dye ink.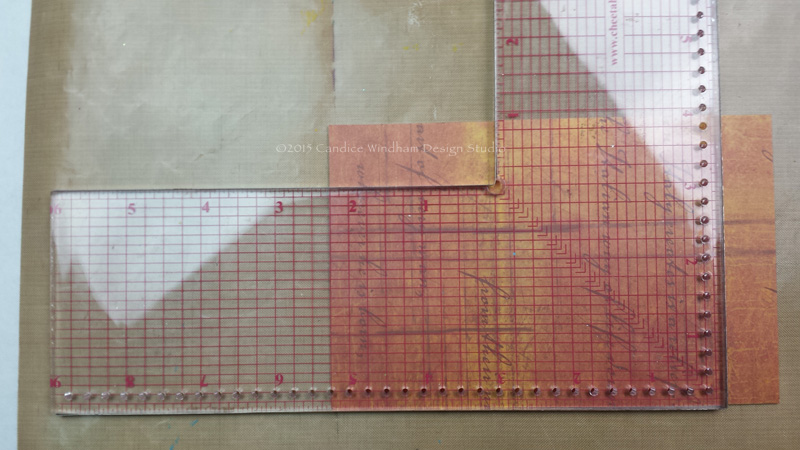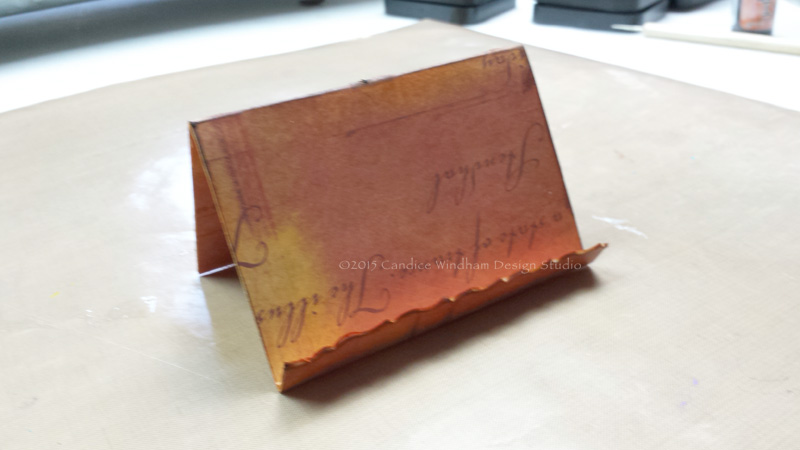 Place Cards
Print name tags on kraft paper and trim to 3″ x 2″.  Stamp swirls with Tea Dye Ink in the lower left corner of each name tag and sponge the edges with Tea Dye ink. Trim gold card stock to 3 1/2″ x 2 1/2″ and sponge the edges with Tea Dye ink. Attach the name tags to card stock with Kool Tak™Premium Extreme. Attach the pine cones, acorns and organdy bow to each name tag with Kool Tak™ Foam Adhesive Clear Foam Pads. Place the finished name tag on the place card holder.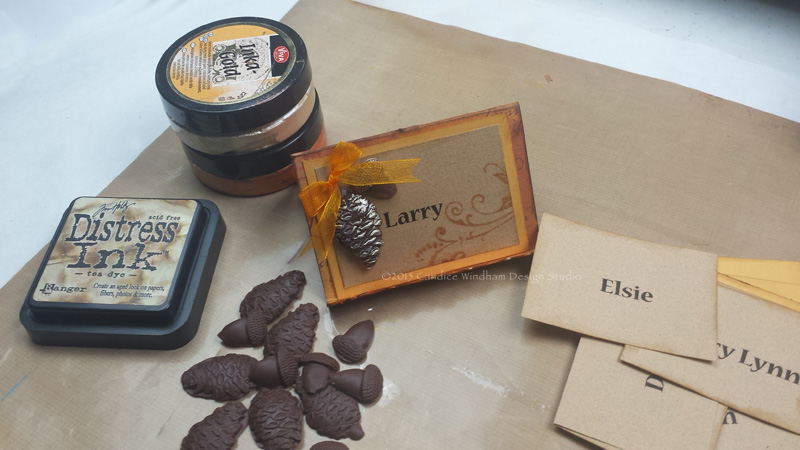 Napkin Rings
Cut kraft paper to 2″ x 10″ strips. Stamp swirls in Tea Dye ink along the length of the strip.
Use the Kool Tak™ Layer Plus Tool to measure a line 1″ from one long edge of the Mulberry paper. Wet the line and tear the Mulberry paper, then measure another inch and wet the line again and tear it. You will have a 1″ wide by 11″ long strip of frayed Mulberry paper. Attach this to the center of the stamped kraft strip with 1/2″ Kool Tak™ Premium Extreme and wrap the ends to the back of the kraft strip. Attach two strips of Kool Tak™ Premium Extreme to one end of the kraft paper, wrap it around your napkin and mark where the end overlaps to get your width. Be sure the ring will slip on and off the napkin so you can use it again. Remove the release paper from the Kool Tak™ Premium Extreme and secure the ring.
Attach the silk leaf to the napkin rings with 1/2″ Kool Tak™Premium Extreme, then attach the acorn, pine cone and organdy bow just like on the place card. Note: Don't have enough hands to place and cut the Kool Tak™ Premium Extreme? Remember: it is easily torn to speed things up!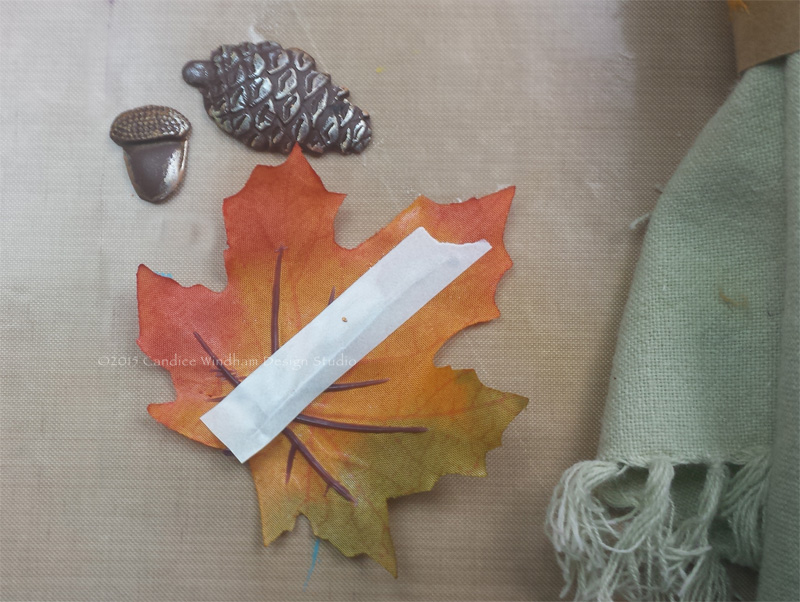 That's it. Quick and easy and pretty.
Here's wishing you a wonderful Thanksgiving with your family!