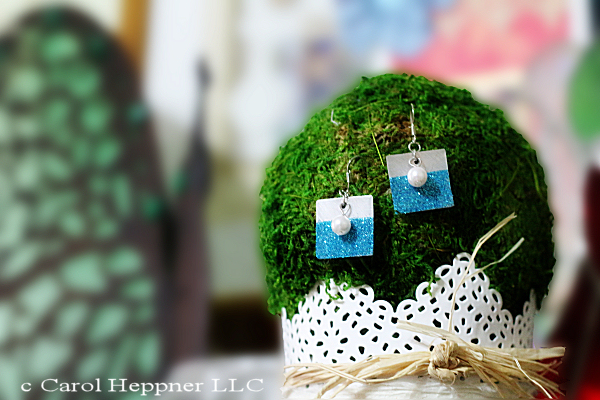 by Carol Heppner
Sparkle is a big trend in summer fashion and you can capture that look with ease this summer.  Every girl loves jewelry that glitters and captures your attention.  These glitter earrings will be a perfect accessory to all your summer fashion needs.
The two Kool Tak™ products that you need to help you to be on trend this summer are the Ultra Clear – Heat Resistant Tape and the Sparkles – Blue – BONUS Pack.  The Ultra Clear – Heat Resistant Tape really sticks to metal (as well as many other surfaces) to create the bond that you need for wearable crafts.  It holds the glitter so much better than glue AND there is no drying time like you have with glue.
The glitter from the Sparkles – Blue – BONUS Pack is unlike other craft glitter.  This glitter has a soft hand which makes the glitter earrings look expensive.  These two wonderful products help you create jewelry that has a boutique, high-end look.  Handmade jewelry should look chic and trendy.  These products help you achieve that top-end look.  These glitter earrings will give you the fashion look that is star quality.
There are other great glitter colors that you can use for these earrings, so make sure to check the entire Kool Tak™ line of glitters.   These glitter earrings are SO easy to make you can have a different color for every day of the week.
Aluminum flashing can be found in your local home-repair-supply store in the roofing section.  It is super easy to cut with scissors.  Your normal craft punch will work great for the holes in the aluminum flashing.   It's also inexpensive so you can make a lot of these great earrings.
Materials:
Aluminum Flashing

1/16" hole punch

Jump rings (2)

Fish-hook Earring Findings (2)

Faux pearls (2)

Head pins (2)

Jump rings (2)

 
Tools:  Craft scissors, nail file, round-nose jewelry pliers, jewelry-wire cutters
Instructions:
Use the scissors to cut 2 squares that are ¾" x ¾" each from the aluminum flashing. 

Round the corners of the cut aluminum flashing with the nail file.

Punch a hole in the top of each square.

Apply the Kool Tak™  Ultra Clear – Heat Resistant Tape to the bottom of each square and then place the blue glitter over the tape.

Thread one head pin through one faux pearl.  Use the round-nose jewelry pliers to create a loop in the wire at the base of the pearl.  Remove any excess wire using the jewelry-wire cutters.  Repeat this step to with the second pearl.

Use a jump ring to attach the glittered square and the loop of the faux pearl onto the fish-hook earring finding.  Repeat this step to finish the second earring.
Related posts: